By Eddie Kim  Feb 10, 2017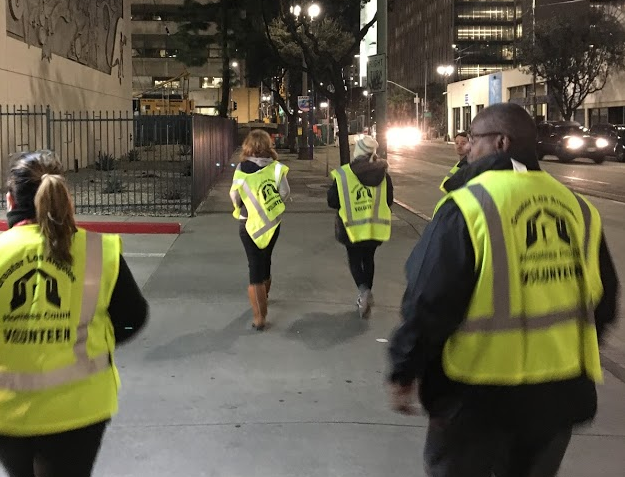 On Jan. 24-26, volunteers organized by the Los Angeles Homeless Services Authority fanned out across the county with the mission of tallying every homeless person and makeshift shelter on the streets. The final night brought teams to Downtown Los Angeles.
It will take several months to turn the hard counts and affiliated estimates into final figures. Those will become the definitive source for both government and media purposes, and will impact federal funding from the U.S. Department of Housing and Urban Development, local policy, and even the recruiting by shelters and nonprofits for philanthropic dollars.
Last year, the count tallied 28,464 homeless people in the city and 46,874 in the county, with 5,590 settled in Council District 14, which primarily covers Downtown. This year LAHSA surveyed 2,155 census tracts. The department is already processing the information and plans to release final figures in May.
There are three main parts to the process. The best-known is the street count, in which volunteers seek to tally homeless people, plus any makeshift shelters including tents and vehicles. It is a visual process, meaning no homeless people are questioned. LAHSA also collects numbers from shelters.
The data-crunching begins as soon as volunteers bring their tally sheets back to the community hub (in Downtown, it was Skid Row's Los Angeles Mission). An on-site data validator reviews the handwritten tallies and inputs them into a computer, according to LAHSA Data and Research Manager JuHyun Sakota. The tally sheets are then sent to LAHSA's headquarters and recounted, she said.
"It takes many hours and many additional volunteers to do this," Sakota noted. "We also figure out tracts or areas we missed during the night count, and deploy teams where they're necessary. Once we have all the data entered, we compare it to last year's numbers to find abnormalities. Is a big difference an actual change in population or an error?"
The second step is a demographic survey undertaken in select census tracts; this helps provide a picture of who the homeless are and how they're living. The process includes analyzing living situations, such as whether it's mostly individuals, families, people in makeshift shelters, etc.
A key to the final figure is using the demographic survey to create a "multiplier" number for all the makeshift shelters counted. Since it is impossible to know how many people are staying in a given tent or car, the surveys — which include questions such as how many people the respondent lived with when they were on the street — are distilled into an average figure. LAHSA's goal this year was to notch 4,000 demographic surveys, said Clementina Verjan, associate director of the Policy and Planning Department at LAHSA.
The newest and trickiest of the three components is the youth count. Children are so hard to find that LAHSA uses what it terms "youth navigators," usually formerly homeless youth, Verjan said. Those individuals literally point out hotspots or a group of kids to aid counters, she added.
"As we got more youth volunteers and involvement from service providers, the population kept growing and we didn't know whether it was a growth in population or just us finding more youth," Verjan said. "We created a new methodology last year. Even HUD lacks a firm grasp on this. Homeless youth was a focus this year on a national level."
LAHSA works to limit room for error, but the process is rife with potential mistakes, such as double counting a homeless person or missing them while counting from a moving vehicle, as occurs in some areas.
The judgment calls are trickier. Volunteers are taught to identify homeless individuals by using an ABC process: appearance, behavior, condition. Long trains of tents must be counted by approximating where one shelter ends and another begins. More vagueness comes with identifying gender and age group from a distance.
LAHSA remains confident in its process, even with some refining left to do with the youth count. A common misconception is that the homeless tally can singlehandedly affect how the city collects dollars and resources ("So many other factors, including poverty levels and wages, are considered for things like funding," Verjan noted), but it's the biggest piece in understanding homelessness in the region.
The number crunching continues, full speed ahead. In the spring, city and county leaders will have a sense of what kind of progress they are making on the issue.